Gray Blending with Studio Stylist Express and Kenra Color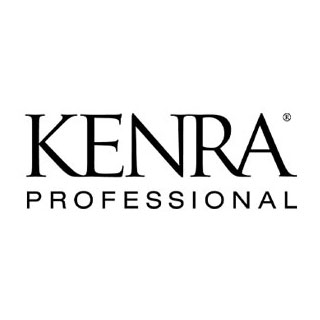 By: Kenra Professional
Gray hair is a topic that can often be sensitive for clients who have not regularly colored their hair until now. Some clients may be coming in with the first signs of silver, and if they aren't ready to embrace their natural process, they want full coverage, ASAP! Another option that has risen in popularity, especially among men, is gray blending. Blending rather than full coverage helps to gently rewind time while providing a lower maintenance option allowing for more of a natural, dimensional look.
This week, Mirella Manelli takes us behind the chair to show a foilyage blending technique on partially gray hair using Studio Stylist Express and Kenra Color.
Consultation
Determine when the last time your client had their color done and what type of gray coverage they want. Mirella's client has about 25% gray in the back and a natural gray money piece. She wants a low-maintenance look, so Mirella will be enhancing the money piece and achieving a balayage look with foils to have an easy grow out.
Pro-tip : if your client has naturally dark hair (level 1 or 3) and your highlights are going to a level 7 or 8, a traditional open-air hair painting balayage approach may not work. You can still achieve a balayage look with foils, which will help the hair process and lift much faster.
Highlights and Foilayage
Lightener formula : Kenra Color Simply Blonde Blue Powder Lightener 1:2 with 20 Vol Developer
Tools you may want to have on-hand : Cooboard or Balayage Board, weaving comb, foil
Start in the back with a V-section at the occipital for the interior highlights. Take quarter-inch wide sections and use a weaving comb to section out the pieces you want to brighten. Use the Cooboard to assist as you. paint the hair using a deep V application and place it in foil. Alternate between diagonal sections and horizontal sections to get background for the balayage rooted look.
For the side sections, the application will go higher in a half-V to create face-framing highlights. As you work towards the top and front, where there is more gray to blend, the subsections will be smaller, and the lightener will go closer to the root. This includes the money piece. Finish with a traditional mohawk section on top. Once finished, let the highlights process until they have reached the desired lift. Do not process for more than
50 minutes.
Pro-tip: If you don't have all of these tools, you can still achieve this look with quarter-inch sections and make a very uneven weave right on top of it. It provides depth and density, similar to the way teasylights would look.
Root Formula Application and Gray Blending
Studio Stylist Express Permanent Color Formula: 6N + 5N with 20Vol Developer
As you choose your shade for gray blending in Studio Stylist Express, be sure to select a shade that is close to your client's natural color. Since Studio Stylist Express is a 10-minute deposit color system, you'll need to work quickly. For gray coverage, leave on and let process for the full ten minutes. When performing a gray blending service, you only need to let it process for about five. Begin applying at the bottom on the first two to four inches and use a comb to bring down the color. The goal is to bring this color down to where the highlights start to diffuse the line of demarcation.
Pro-tip: When it comes to combatting those stubborn gray hairs, Studio Stylist Express can be a critical tool to have in your arsenal for the clients that call you last minute, if they or you are on a time crunch, or you're simply trying to maximize your profitability.
Demi-Permanent Color Toner Formula: 7SM 1:2 with 9Vol Activator
Set your timer for 10 minutes and begin to apply the demi-permanent color to the mids and ends. To blend the demarcation lines, use your hands (while wearing gloves) and comb to make sure the colors blend. You'll have a few minutes of wiggle room to let the demi-permanent color process before heading to the shampoo bowl.
Pro-tip: If you want the maximum amount of control, you can process your Studio Stylist Express separately, wash, and rinse. You would then apply your toner formula and process it for up to 25 minutes.
Finish with your client's chosen style and lock it in with Volume Spray 25 for an all-day, flexible hold.
Studio Stylist Express and Kenra Color will allow you to explore the myriad of possibilities to achieve almost any vision. We hope we can help unlock your creativity and encourage your clients to embrace the gray with a gray blending technique!
How To: Foilayage for Gray Hair Blending