How to Quickly Refresh and Tone Highlights on Dark Hair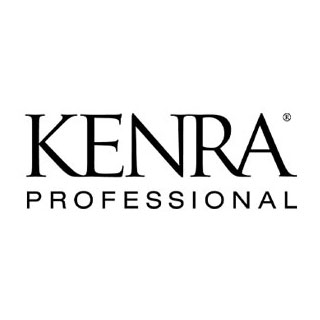 By: Kenra Professional
It seems that these days, whether you're on the go with work, or getting pampered with self-care, time is always of the essence. Getting your hair done at the salon is a much-needed escape for many who want to relax and decompress while getting pampered. On the other hand, sometimes people just want to get refreshed without having to do full color services each time, and this blonding technique is perfect for that occasion.

In this article, stylist and Kenra Professional Brand Educator Sarah McGinty tells us how she achieved a timesaving highlighting service on a frequent flyer while also setting her up for success in between appointments with eco and travel friendly innovations.
In the consultation, the brunette guest mentioned she loved the grow out from her previous highlights and just wanted a "refresh" around her face to have it brightened back up. She also mentioned having a lot of upcoming travel scheduled for work, and that she appreciated how long her hair still looked good with her busy schedule.
That being said, a simple face-framing highlight retouch with 15-20 foils would do the trick. The purpose of this appointment was to give a bold impact while using a time saving method. For the lightener, Simply Blonde Beyond Bond Lightener is a perfect option for this service and is especially great on guests with pre-lightened hair because it not only lifts quickly but keeps the integrity of the hair while repairing inner and outer bonds, achieving high impact results. It's a win-win from a stylist perspective and for providing a professional guest experience.
The application technique in the foils for this look is a babylight- a very fine weave. Using fine weaves and small, precise subsections with foil work helps to ensure complete and full saturation and lift. Even if the desired result is a bolder ribbon or dramatic money piece, stacking babylights back-to-back as opposed to slices will support a more diffused blend and softer grow out.
Babylights give a beautiful softness and can be as natural and dimensional or as bold as desired, just by the placement or the way foils can be applied back-to-back with little-to-no hair left in between.
The finished face-framing application should look like a visor of foils, consisting of diagonal back foils on the sides combined with parallel foils to the hairline. Process times will vary from client to client, but this client who had naturally dark hair processed for about 40 minutes.
Pro Tip: Sarah says it is important to be purposeful with any guest that sits in the chair, no matter how long the person has been a client. "I listen before I recommend. I gather information before I even talk much about my plan of action to achieve the look they are wanting."
After processing, it's time to shampoo and tone the hair with the perfect custom color formula for that guest, helping to enhance or neutralize tones where necessary. Because Rapid Toners are mixed at a 1:2 ratio with 9 Volume Activator, they can be easily mixed in a bottle with an applicator for a speedy application on damp hair at the shampoo bowl. Kenra Color Rapid Toners have 5 times the rate of oxidation, making them a huge time saver in the salon for the client and the stylist.
To combat warmth that often shows up in coarse, darker hair types, melt Silver Ash Rapid Toner from roots to mid-lengths of the hair into Silver Violet Rapid Toner on the mid-lengths and ends to give it a gradient effect. Process for five minutes, shampoo, and condition.

The mention of traveling in the consultation (or at any time during the appointment if it comes up later) is an opportunity to ask clients about their current at-home regimen meets their needs and how it could be improved. Because of this guest's amped up schedule, Kenra Platinum's Simply Add Water Shampoo and Conditioner is an excellent recommendation because the guest can easily put them in carry-on luggage and help to maintain the hair on the road with professional products.
Simply Add Water Shampoo and Conditioner is an eco-friendly and travel friendly system that transforms from a powder to a liquid. Simply wet the hands in the shower and add a about a quarter sized amount of powder into the hands for short to medium lengths (more may be necessary for extra-long hair). Add a bit more water and emulsify into a nice lather just like a liquid shampoo or conditioner.
These small but mighty containers provide up to 3x the amount of product compared to traditional liquid shampoos and conditioners, making then an economical choice for the stylist backbar, saving much needed space and getting up to 85 uses out of each. A benefit to stylists and clients alike, Simply Add Water is not only great for air travel, but it is also a no-brainer for clients that are active and outdoor lovers – those that go camping, back packing, to the gym, or even festival goers.

It is also imperative to talk about products is while they're being used rather than waiting until the end of the appointment. As a stylist, it is important to take the time to educate guests on how to use a product successfully, and really be intentional with step by steps. It not only results in retail sales but also client retention, loyalty, and trust.
After cleansing and prepping the hair with Simply Add Water Shampoo and Conditioner, layer in Kenra Platinum Thickening Mousse 12 for this look, massaging it into the root area for added fullness. This will provide enhanced body and fullness by plumping the diameter of the hair strand by up to 150% while providing grip to the hair for improved styling. Then layer with Perfect Blowout 5 on the mid-lengths and ends for added style memory and thermal protection.