The Richest Red Hair Colors for Fall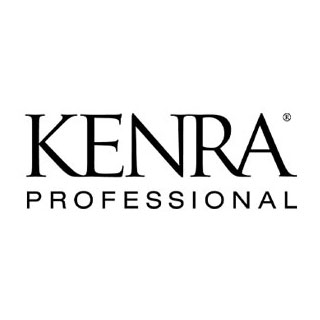 By: Kenra Professional
Fall is the perfect time to think about change. As the weather shifts, and we adjust our wardrobe accordingly, it's a great opportunity to transition hair color as well. Bright coppers and rich reds are the stars of the fall color palette, and the below technique will help you bring your clients' red tones to life. Using a combination of Kenra Color permanent, demi-permanent, and creatives shades, you can customize any client's formulation with a simple and straightforward approach.
The main objective for this color transformation is to understand simple color placement without the use of foils or separation tools. This technique can be utilized with all formulations and starting levels and will provide a high impact in less time.
Step 1: Start by parting the hair with a standard four-quadrant sectioning. For the foundation color, mix equal parts 7RB + 6RV with 20 Volume Developer and apply directly to roots 1.5 inches from the base in all four quadrants. Once the root application is complete, take a wide tooth comb and pull the foundation color from roots to ends, ensuring not to stop in the midsection. Resection the hair back into four quadrants for the remaining technique.
PRO TIP: Applying the root color further than 1 inch from the scalp and combing through, will help to give a more blended, low maintenance color grow out.
Step 2: Starting in the in front left quadrant, let down the quadrant and divide the hair vertically into 3 subsections. (Subsections may vary based on hair density). Now, mix 2 accent formulations using demi-permanent color if only needing deposit:

Accent Formula 1: 2 parts 6RR + 1 part 7CC + 9 Volume Activator (Mixed 1:2)
Accent Formula 2: 2 parts 6R + 1 part 9GG + 9 Volume Activator (Mixed 1:2)
Step 3: In the first front subsection apply Accent 1 from mid lengths to ends. Once complete, twist hair clockwise. In the second subsection apply Accent 2 from mid lengths to ends. Once complete, turn counterclockwise. For the third subsection apply Accent 1 from mid lengths to ends and twist clockwise.
PROTIP : By turning each subsection the opposite direction from each other, no foils are needed and there is no need to worry about bruising or bleeding of each formulation used.
Kenra Professional recommends using demi-permanent color on the mid-lengths and ends when no gray coverage is needed to ensure the integrity and health of each strand. The gentle, ammonia-free formulation of Kenra Color demi-permanents ensures that the guest's hair will always be in the best condition.
Optional Step for Gray Coverage in mid strands and Ends: Apply Kenra color Permanent with 10 volume and a 1:1 mixing ratio. This will ensure gray coverage and deposit only.
Step 4: After the first quadrant is complete continue the same application to the back left quadrant making sure to alternate Accent 1 and Accent 2 in the same pattern as in Step 3. Complete the application with same technique, following around the head in the back right quadrant 3 and front right quadrant 4. It is important to remember to finish in the front right subsection with the same accent you began with in the front left subsection.
For a brighter face frame, start with the lighter level and brighter shade accent. By adding in GG or CC to your formulation, it will add vibrancy, warmth, and light reflection.
Optional Step: After the initial application is processed and completed, add even more vibrancy by applying 2 parts Red Creative + 1 part Clear Creative onto dry hair from scalp to ends. Creative Color glazes are a great way to help intensify the brightness of the color, ensure longevity, and give the hair a beautiful custom finish. For a truly unique finish, consider these additional formulas to provide different fall inspired results:

4BRV+ (+) 5RB
6R + 7A
7RB + 6BC
6R + 8SM
Velvet Wine + Magenta Creatives
Muted Copper + Red Creatives

Sign up for our free live classes with demonstrations and techniques like this at  www.kenraprofessional.com/event-list