Sickening Styles and the People Behind Them: A Multi-Part Series on Editorial Eleganza | Part I: KJ Murphy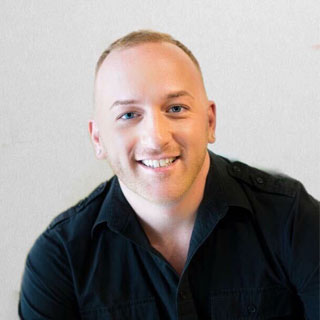 By: Wesley Boyce
Ever wonder what it takes to get the picture perfect shot? Have you thought about the inspiration or the why behind a stunning photoshoot being published in magazines or posted along Fifth Avenue? Have you ever pondered how you could get into that part of the industry but don't know where to start?

We sat down (virtually) with a few amazing artists who have been able to showcase their editorial eleganza through many different methods and mediums in an effort to gain some insights and inspiration behind what they do.
This week focuses on the works of KJ Murphy ( @kmurphycreations), a colorful and eclectic hair artist based out of Denver, Colorado. KJ specializes in blondes, high fashion cuts, and avant-garde editorial styling. He is a 2015 Professional Beauty Association Beacon Winner, a BangStyle Supreme, and international published artist. He has years of experience in editorial photoshoots, runway, and film.
I asked KJ to share how he got his start in this sector of the industry as well as a few of his favorite shots from his time on set. This is what he had to say:
"I'm thrilled to share with you some different looks that I have done over the years. I got my start doing editorial long before I ever thought about doing hair. I used to be a makeup artist for haunted houses for several years, and I also did body painting. It was always such a rush to see the concept come to life and the collaboration with everyone on set. So naturally when I started doing hair, I incorporated it into my work. With each shoot, show, or event, I learned a new skill-- and I'm excited to share some of those with you.
1. Cotton Candy Dreams
"This collection was my second time ever submitting to NAHA after winning Beacon. This specific look was probably the most time consuming look out of them all. I had to color all the hair, then cut the proper length, curl the hair, and glue it to the form. Each one of those little curls is individually applied. The inspiration for this look came from clowns, dolls, and the idea of living in a dream-like state. The biggest take away from this shoot I got was always pay for what you want. If you are entering these images for a competition, pay your team. It's your name and your vision. If you want it done how you want to see it, then pay for it to be done right. Not only does it show that you respect your team, but it also shows a level of professionalism and can lead to future paid opportunities for yourself."
Photo Credits:
Hair: @kmurphycreations
Photographer: @nicolemarcelli
Fashion: @blackberrymaverick
Makeup: @melakanamcintosh
Model: Carl
2. Color Me Rad
"This look was a lot of fun to do. I always had this idea to style hair and shoot it while it was processing. I think it's important to showcase all aspects of hairdressing. Even while processing there is beauty in the hair. This shoot challenged me in a lot of new ways and definitely wasn't as easy as I thought. I had to really watch my hairline to make sure it was a clean application, because makeup and editing only goes so far. The little point on the right side of her face was because I had gotten a little dot on that side and makeup couldn't cover it. You learn real fast on set to roll with things, so I did. Make it a part of the look and no one ever has to know. Being flexible on set is important because things do happen, and you will have to adjust. However, it can lead to something ten times more stunning."
Photo Credits:
Hair: @kmurphycreations
Photographer: @vinniewphotos
Makeup: @priority_looks
Model: Jeffrey Hughes
3. Bladed Boundary
"This model is actually an old client of mine. I was using this photo for a men's grooming competition that unfortunately I didn't place in—however, it did get picked up by BangStyle. Doing men's grooming has always been something that I enjoy. I simply wanted to do a clean, classic, men's cut that best showcased my client's features. He has a wonderful cowlick on his front hairline that we used to his advantage to create this beautiful wave. When you are looking for models, especially for cuts and colors, try to think of people who trust you. A lot of times, going through an agency can be difficult since they have strict regulations for their models on how their hair can be, so trying to do a high fashion color or a pixie cut isn't always in the cards for them. However, your client that sees you every 6 to 8 weeks and likes to take all the selfies might be more open to the idea of receiving a free service, cutting off all their hair, and coloring it rainbow. Don't limit your model pool to just 'professional models.' Use the models that already sit in your chair."
Photo Credits:
Hair and Makeup: @kmurphycreations
Photographer: @nehemiahurbanphotography
Model: Will Knapp
4. Golden Roses
"Collaboration can be one of the most rewarding aspects of editorial work. I was asked to be a part of this designer's vision and help bring it to life-- rose gold sugar skull. This was one of the few shoots that I did both hair and makeup. I had to brush up on my skull anatomy a little bit for this one. With all my shoots, there is always some kind of vision board that is shared with the team. We want to make sure that everyone is on the same page for how we want the look to feel. There were a lot of skulls on our board for this one. We also chose to work with the model's natural texture for this one. I think too many times on set you will see stylists trying to remove natural texture from hair. I personally like to celebrate different hair types, and whenever I have the chance, I make textured hair the star. In this look, I used Kenra Platinum Dry Texture Spray 6 and Kenra Volume Spray 25." [This shoot was published in Feroce Magazine.]
Photo Credits:
Hair and Makeup: @kmurphycreations
Photographer: @vinniewphotos
Concept/Designer: @juniper.elderberry
Model: @jaayrock
What would you tell someone that is looking to get into this side of the industry? "Editorial hairdressing is an art form. It can take years to train your eye to see certain shapes, understand lighting, angles, and posing. However, it can be used as a creative outlet for ideas that you just don't get to do behind the chair. I think it's important that as artists we allow ourselves this creative freedom and space. If being an editorial hair artist is something you are wanting to do, then do it. That is my biggest advice to someone who wants to get involved. Don't wait for a photographer to ask you to shoot, go find one. Don't wait for a fashion designer to contact you, ask to borrow their clothes. Don't wait for this opportunity to fall in your lap, create it for yourself. Pick a date, pick a location, find a photographer, find a model and just do it! Once you start collaborating and networking with other artists, you will most likely start being offered new gigs."
If you could tell your younger self something to prepare you for the person you are today, what would you say?
"If there was one thing that I could tell to my past self, it would be to let go of the idea that I have in my head and just make beautiful hair. Like I said earlier, things can get crazy on set and sometimes you just have to go with it. I used to make such a fuss because, 'that one hair is out of place' or, 'that one curl isn't quite right.' It wasn't exactly what I saw in my head. Although it's good to see your mistakes and work to improve on them, if you keep fussing with the hair you will just keep making the problem bigger and won't ever get to shooting. For all you know, the camera won't even pick up the imperfection and you wasted an extra 15 minutes for nothing. Let go of that idea that was in your head and run with the new creation in front of you, because that might be the winning look. Once again-- just do the hair; don't over think it, just do it.
Last thing to remember is that an editorial is your take on hair. It's your opinion of how hair should look, it's your art. Art is subjective. While some may not like your work, others will say it's the best thing they have ever seen. Don't ever let someone tell you that your art is wrong or bad. They simply see the world in a different way.
"Your art is beautiful, unique, and magical, just like you."