Sweet Summertime Bridesmaid Hair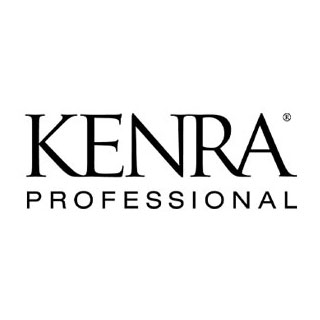 By: Kenra Professional
After a long and wedding-less year, the Roaring Twenties are in full swing, so get ready to dust off your formalwear and prepare to dance the night away at all those postponed weddings that are finally happening.
For all you bridesmaids out there (we know, it's never as fun as promised), who love an updo, here's a breakdown of four different ways to style the front of your updo to bring the heat and glamour all night long. No, you can't look as good as the bride, but that doesn't mean you can't still serve looks. On the bright side, these looks take a quarter of the time that a full-blown bridal look would. First look: Center part with loose pieces framing the face This soft and sweet look is the perfect hairstyle for any bridesmaid who is going for a glowing, dewy look. Two pieces of hair cascade around the face to create a demure hairstyle that is quick and easy to achieve.
Step 1: Begin at the top of the ear and spray Kenra Hot Spray 20 to prepare your hair for heat styling. Next, use your flat iron to create loose curls going away from the face by clamping the flat iron at the top then rotating it before continuing down to the ends. For this style, you only need to curl the front half of your hair. Step 2: As you work your way away from the face, begin to backcomb to create some volume. Then spray  Kenra Volume Spray 25 to lock your curls in place. Step 3: Once you've completed the curls on both sides, run your fingers through to soften the hair. Then gently begin to twist and pin back the curls organically towards the center back. You can use any type of bun you prefer in the back. Make it fancy or keep it simple; it's up to you. Step 4: After your pieces are in place, go through with the Kenra Volume Spray 25 and lift the roots with your fingers for a natural, voluminous look. This finishing spray is soft and pliable but will still keep your hairstyle intact from ceremony to reception and hours beyond.
Second look: Side part without any pieces out This classy, elegant updo is perfect for more formal weddings. It is also a great balancing hairdo for a bridesmaid dress that has a lot going on. If the dress is wild, keep the hair mild.
Step 1: Start at the top crown and begin to backcomb the roots to build a bit of volume. Then lift the hair in sections and spray the roots with Kenra Volume Spray 25 to add some lift. Step 2: Next, part your hair and then section off a one-inch piece at the top. Work your way down, curling pieces away from the face with a flat iron. If you're not comfortable using a flat iron, you can use a 1"– 1.25" curling iron—whichever is easiest for you. Step 3: Once you have all the pieces curled, pin the hair back, row by row, detailing and placing hair as you go. By working this way, you will create a dimensional look. As you work up, be sure to direct the hair back instead of down. Repeat steps one and two on the opposite side. When you're done, seal your classic updo with some Kenra Volume Spray 25 for dance floor durability.
Third look: Swept back hairstyle This updo is about as sexy as updos get. It will get all of your hair up and out of your face but has the volume and texture to give your look a touch of va-va-voom. It's not going to steal the show from the bride, but it's definitely going to turn some heads.
Step 1: Start by sectioning the front mohawk section and clipping it aside for last. Then begin on one side and spray the hair with the Kenra Hot Spray 20 from roots to ends to protect your hair from the curling iron. Step 2: Work in one-inch pieces curling hair up and away from the face with a one-inch curling wand. Work the hair up and back with your fingers, spray with the Kenra Perfect Medium Spray 13, and pin the sides of the hair in the back. This spray will give you light hold and stunning shine. Repeat the process on the other side. Step 3: For the mohawk section, spray the hair with a generous amount of Hot Spray 20. Then take the saturated hair and use a smaller iron to create a tighter curl pattern. Work the curls back and up with the Perfect Medium Spray 13 and secure with bobby pins. Pay special attention to the very front sections and take your time detailing to ensure everything is cohesive and in the right place.
Fourth look: Classic side part with loose face-framing pieces This whimsical updo is great for a soft and flirtatious look. If your bridesmaid dress is pastel, floral, or flowy, this updo is sure to match flawlessly.
Step 1: Deeply part your hair and begin by backcombing the side sections for volume. Then, spray all of your hair with Kenra Hot Spray 20 and curl your hair away from your face in one-inch sections starting at the bottom and working your way up. Step 2: Use your fingers to gently comb the flyaways into place. Pull the side curls back and bobby pin them piece by piece into place to create a textured low bun. Step 3: Take the loose front piece and tuck it behind a part of the hair above the ear. Repeat the process on the other side and finish with a light coat of Kenra Volume Spray 25.
With these fabulous bridesmaid looks, you will look flawless in every picture without upstaging the bride. Just make sure to seal in the final look with some hairspray so that it lasts all night long.
4 Ways To Style Front Of Hair For Any Updo | Bridal Upstyle Ideas